Vienna Gallery
Wien, Wien, du schöne Stadt
My first round in the city of waltzes was in 1988. With all respect for the Prater, Volksoper and Karlskirche, we wanted to see something really unique. A brochure mentioned the Undertaker's Museum. It was only open on special agreement, so we called the Wiener Totenamt and made the agreement.
We were welcomed by a Herr Müller, who demonstrated the collection, dressed in a white coat. There were innumerable items of death, stacks of invitational letters to the funeral of the emperor Franz Josef, and what is on the picture, namely the death mask of Joseph Haydn, and the black can in which his head was stored while the phrenologists examined it. Phrenology was popular in those days.
By chance we came across this little shop. Well, at that time hacking wasn't as "in," as dangerous and terrible as it is now.
One of my finest photographs, taken at 1/30th of a second with 1000 ASA film in the Stephansdom. Luckily, the front end of the church was closed for visitors, so I could shoot without disturbances. Just plant your feet hard on the ground, keep your breath and release the shutter.
In the time leading up to this trip I had started taking an interest in old machinery, and saw by chance a shop selling piano rolls for player pianos. You don't see such shops every day, so I had to take a picture. You see a roll hanging, unrolled in the window.
It was wine harvesting time. On the hills around the city, the wine yards are tightly packed. We took the tram up to Grinzig, the wine district, tried out the new harvest, Heuerige, and ordered radishes with it. The waitress looked very suspicious:

- Heueriger und Radieschen???
The Return of the Wienerschnitzel Kamikaze Pilot
The above adventures resulted in another trip to Vienna 12 years later, in March, 2000. This time with a TV crew from Wegelius TV, a Swedish production company. The Swedish Kanal 5 later aired the program. In a star-studded production, three people mowed through the most important sights in Vienna in three days, whereupon Wegelius edited it down to a very fun, 42 minute edition of their "Res-TV" series (Travel TV). It was I, Anna (opera singer) and Eva (student), who lived out our wildest dreams in the City of Culture above all others. We had museums, horse riding, opera, and a big ball.
Click here to get 30 seconds from the best travel show of all times.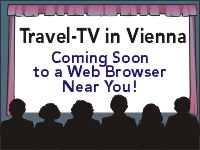 Res-TV on Swedish Channel 5, 03/30/2000
The video is published by kind permission of Wegelius TV and Kanal 5.
The show got some enthusiastic reviews:
"My girlfriend nearly fell over with laughter" Ralph
"It was a great show. You were very good, and fun!" Eva
"Fun to see you on TV tonight in Res-TV on channel 5...not to mention how elegant you looked..." Solveig
"It was very entertaining...good fun. Without you, it wouldn't have been as fun." Susanne
[Hard laughter] Thomas
"...I saw it yesterday! Damn good! You were the star of the show. Without you, those two boring broads would have made Vienna look like the...stronghold of dreariness" Lennart
"I just missed you on TV. When's the re-run?" Magnus
My Day
The main theme of my travelling idea was perhaps my comment: "I feel like a Wienerschnitzel kamikaze pilot diving into the primordial soup of culture, without parachute or return." This trip to Vienna was in no way a photo safari, as the TV crew mostly pushed us around ("Go out through the door", "That was bad. Go out again", "Now you go out again, while we shoot from the outside"), but I managed to get some funny snaps anyway. "My Day" meant a return to the Undertaker's Museum, and a very inspiring look at the department of self-playing instruments at the Science Museum. They showed us an exquisite collection of nicely restored instruments.
| | |
| --- | --- |
| | The king of them all was the Hupfeldt Phonoliszt, a combination of three violins and a piano, performing beautifully (although this picture is from a museum in Utrecht in Holland). |
| | A closer look at the three violins. The round ring is the continuously rotating bow. When a violin plays, it jumps forward and its string is pressed against the bow. |
| | A close-up of a violin's neck, with its pneumatically manoeuvred fingers. |
| | A macro shot of the tuning mechanism of a violin. Each violin uses only one string. This is handicraft at the highest level. |
| | Another gem was this little medieval, hand-pumped table organ, with reed pipes looking like golden bells. |
| | About this semi-electric piano, the Akaphone, built by an Austrian music teacher in 1963, I have no information, but it looks really great. Compare with the boring electronic counterpart in the foreground. |
My Evening finished with a visit to a little wine restaurant in Grinzig, where they served Heuerig, the newly harvested wine (although it was February) and radishes. I didn't ask for any special restaurant and by some quirk of fate, we ended up at the same place I visited 12 years ago. Unbelievable. Anyway, after a memorable night in the wine-cellar, tasting this and that, we wandered homewards, much happier than before. We were given a box of white wine, which in some strange way managed to disappear during the night.
Eva's Day
Eva's Day started at the main office of the hair-care manufacturer Schwartzkopf, where they had us styled according to all the tricks of the trade, something I didn't enjoy as much as Eva had hoped for.
| | |
| --- | --- |
| | Beam me up, Scotty! |
| | Comment in the show: "All the things they do so the ladies can have their hair straight or crooked or red or green. It's crazy." |
| | Don't I look mean? For once I had good use for the camera's self-portrait feature. I look like an evil Johann Sebastian Bach. |
| | Before the ball, we went to a restaurant and had a 1-metre sandwich and a wheelbarrow of wienerschnitzels. Eva is resting after a hectic day. |
| | The only thing I remember well from the ball was the cows hanging in the ceiling. |
Anna's Day

Anna's Day started with horse riding. This horse-riding thing needs mentioning. Not that I liked it very much, but because the others laughed their heads off as soon as I got up on the horse. Later, they edited the film and made a terribly nasty trailer out of it, and ran it for a week, with me sitting, wobbling on a Lipizzaner. Well, I didn't have to ride in the Prater, because there was no helmet or lederhosen big enough for me.
After the TV Crew had Gone Home
Left to my own devices, I would rather visit churches and other magnificent buildings.
| | | |
| --- | --- | --- |
| | The Kummer Hotel on Maria Hilferstraße was one of the most stylish hotels I have ever visited. This is the way a hotel should look. It's one of those places where you look good in a dinner jacket. | |
| | |
| --- | --- |
| | Nice icon in the Stephansdom. They are good at that, the Catholics. |
| | The organ of the Stephansdom has black pipes, but the Nikon camera rendered them well anyway. Note the black lute player in the lower right corner. |
| | Here I am in another church, I have forgotten its name, but what a magnificent Baroque organ! One of the nicest I have ever seen. |
| | I barely had time to get my camera up, to catch this Stupa through the car window, a Buddhist place of worship in the middle of Vienna, so charmingly framed by the concrete sleepers at the bottom. But, as the picture turned out so badly, I decided to play a little with it. |
| | This is another strange and unbearably ugly building, a bastard in the City of Beautiful Buildings. It is an old flak-tower (air defense) from the Nazi days. Hitler didn't do very much good, but he knew how to build houses. The tower stands as a memento, because it's impossible to tear it down. It has been recycled into some sort of underwater museum. |
You'll find more pictures, mostly still life pictures of the wonderful Vienna food, in the General Gallery.
---