The World's Largest Punch Card

A monster! Having dimensions slightly larger than Letter size (about A4), this just has to be the largest punch card in the world. This biggie was used by Lithuanian-Soviet geologists cataloguing mineral findings in the Soviet Union, up to about the year 1990. The text is half Russian, half Lithuanian and the card was printed in Lithuania.
The function was as follows: Details on the mineral finding was written in by hand in the various fields on the card, whereupon key information was punched out in the edges, as is shown in the upper middle in the picture. All cards were put into a machine which pushed bars through suitable holes and lifted the bars, lifting only the cards without the appropriate punches. By putting the lifted cards down at one end of the card box and pushing another set of bars through the holes and repeating the procedure, the cards could be sorted in any desired order. The reading of the information was, of course, still manual.
The insert shows a classification field for moraine ground. Year of printing is unknown.
Size: 207x297 mm
Not the World's Biggest, but Nevertheless Unique

To continue on the geological path, this punch card was used by the same Soviet geologists for less daunting cataloguing work. This particular card is specially printed for use in an English-Lithuanian-Russian geological dictionary. Of course, such books could not be bought in the Soviet Union!
The insert shows the Cyrillic alphabetic sort field. Year of printing is unknown.
Size: 147x105 mm
IBM Card Copy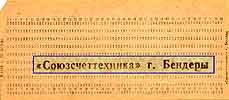 Shown is an ordinary, 80-column IBM punch card. That's what you think. It is actually a Russian punch card, having exactly the same dimensions as the IBM card. The only difference is that the IBM card has rounded corners, while the Russian one has sharp corners. Everything that wasn't absolutely necessary, was not implemented in the Soviet Union. Operator comfort was at the bottom of the list.
The Russian technicians could hardly claim compatibility reasons for their choice of dimensions. Rather, they probably chose to change as little as possible in the drawings the spies brought home.
The insert shows a text saying: "Measuring Technology of the Soviet Union" in the city of Benderu (probably in Ukraine). The card was printed as late as May 1985.
Size: 187x82 mm
---